Motorcycle Helmet Cameras
Most Recent Helmet Cameras Reviews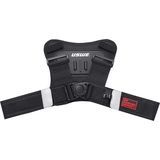 USWE Action Camera Harness
Smackie

- Salt Lake City, UT
Not a Fan...
"Although this mount positions your camera in a great spot, my experience with it was sub-par. The reason is that, even though the USWE pack fits great and doesnt bounce while riding, it does slide up and back a small amount. Because of this, the camera harness also slides up and begins to choke me and allows the chin of my helmet to hit the camera. It may be ok for applications other than MX, but I went to a helmet chin mount and couldnt be happier. Used on one ride, and now i have a cool unusable camera mount in my gear bag."

See all reviews for this product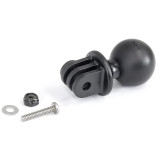 RAM Mounts GoPro Hero Adapter
Sdwall50

- McComb, MS
Mounted it on my motorcycle and it worked great.
"I purchased to mount my Gopro to my motorcycle and it did not come loose, stayed tight during the bumps and that is what I was looking for, great product."

See all reviews for this product
Helmet Cameras and Action Cameras
Just what are those square contraptions affixed atop a helmet? So many riders whether on the street riding motorcycles, the motocross track on dirt bikes, or the trails on an ATV attach a camera to their helmet. These helmet cameras serve a variety of reasons and not just fun YouTube videos, though we won't discourage you from uploading your crash, near-misses, or racing winning whip.
Motorcycle Helmet Camera
Not just any helmet camera, but a motorcycle helmet camera allows you to record a ride from the rider's point of view. These cameras like the popular GoPro helmet mount camera provide exceptional clarity without all the wobbling and annoying interference you get from those older hand held cameras. Helmet cameras come with state-of-the-art features and the final product looks professionally done.
Brands of Helmet Cameras
Technology has come a long way and introduced a new type of personal video recording by turning the helmet camera into a must-have piece of equipment. You probably see many motorcycle riders passing you on the freeway wearing a helmet camera and watch any motocross race and you'll see any several pros lined up behind the gate with a camera attached to their helmet. A number of companies have dived into the helmet camera arena and we stock the best brands:
Types of Helmet Cameras
If you wear a helmet for head protection then you can find a camera that fits:
Reasons for Wearing a Helmet Camera
You may wonder, why would I attach a camera to my helmet? For any number of reasons! Helmet cameras record your ride to share with others, help prove fault in the case of an accident, or in a racing competition you can review the tape, so to speak, to provide insight into becoming a better rider. Got a vlog? What better way to attract followers to your motorcycle vlogging than a crystal-clear helmet cam video. You never know what you might catch on film! Helmet cameras are easy to use, attach securely and download quickly for fast viewing. If you ride and want to relive your adventure or see what you missed along the way get a helmet camera and enjoy hours of memories and fun sharing with friends.
Best Motorcycle Helmet Camera for Vlogging in 2020
MotoSport stocks only the best helmet cameras so whatever brand you decide to bring along for the ride it works whether you ride the street, track or trails. Check out all of our available helmet cameras and the accompanying helmet camera mounts and get recording today. If you have questions or need help give one of our gearheads a call at 1-888-676-8853 who probably has a camera mounted to their helmet and can tell you all the pros and cons of the specific helmet camera brands. We ship all of our helmet cameras fast and orders more than $79 deliver free.